Regardless of the size of your company, or whether or not it has supported a charity before we are here to help you make the most of your fundraising and engage all your stakeholders.
There are multiple ways that we can work together to support your company's objectives and ours to help children and adults with learning disabilities. We will work with you to create a bespoke partnership.
"The memories and experience gained will last for many years to come for everyone involved on the project". Lucy Shirley, Head of Marketing and Business Support, Galliford Try.
Our experienced team will provide you with the support, advice and materials to make your fundraising a success and your experience memorable.

Ways in which you can develop a partnership with LinkAble are:
Charity of the year
Sponsorship of a LinkAble project or event
Cause-related marketing
Volunteering
Skills share
Gift in Kind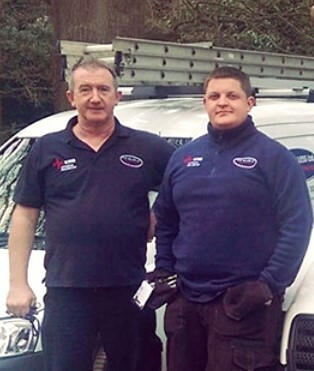 Alan Nelless, Director of A.M Nelless Ltd, on why he donates his time and expertise to LinkAble.
"A.M Nelless Ltd is a Woking-based electrical contractor. We've been donating our time to LinkAble for the last couple of years. Most recently we repaired the light in the outside car park, which I've been told the staff are extremely happy about.
Before that, we did the electrics in the sensory room refurbishment. We also repaired the general lights in the building – the ones used throughout the LinkAble are no longer made, and so would have all needed replacing at great expense! Luckily, we know how to repair them, so giving a few hours of our time has saved LinkAble money they can better use elsewhere.
This is why we like to support LinkAble - we know their budget is tight and us donating a few hours of our time can save them so much money. LinkAble knows we are on hand to help them.
We're quite old school in our approach, if it can be repaired then that's what we will do. So often just one-part needs replacing, and it's so much better for the planet to do that if you can. This means that we can make a real difference to LinkAble by keeping their electrics working and saving them a lot of money.
Helping in this way gives you such a good feeling and I know LinkAble is over the moon about the work we've done for them. I would recommend any local business donate some of their time if they can". - Alan Nelless (pictured left).