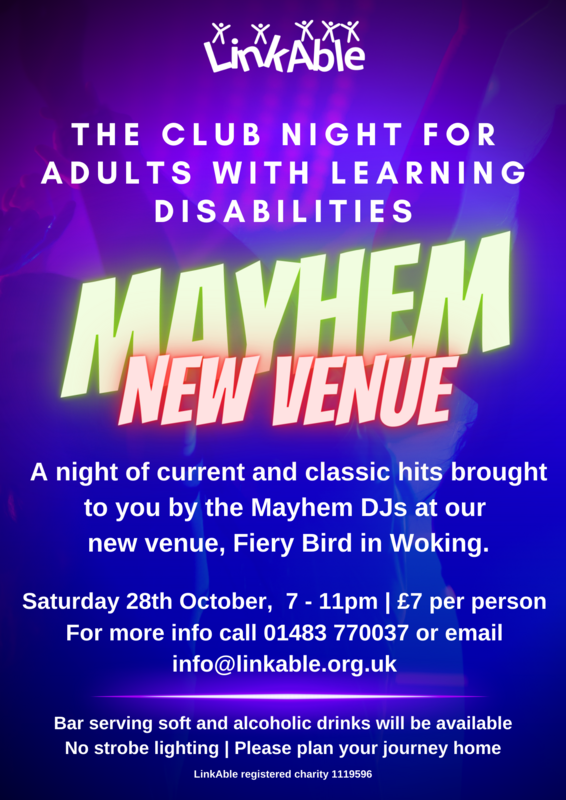 It's the news you have all been waiting for.
We have a new venue for Mayhem!
We are so excited to let you know that the October Mayhem will be held at our new venue, Fiery Bird in Woking. This accessible venue will be the new home for Mayhem.
Please be aware that Fiery Bird is in a different venue from where it used to be, so remember to check the address before you come to Mayhem.
As we are entering spooky season, you can come dressed for Halloween if you would like to!
Buy your tickets online
You can buy your tickets online, making it even quicker to get on the dancefloor! They will also be available to purchase on the door.
Here's what you need to know about the October Mayhem.
Date: Saturday, 28th October
Time: 7 - 11 pm
Age: This event is for 18+
Cost: £7 per person (carers also need to buy a ticket)
Buying tickets online: Use the link below to buy your ticket online*
Tickets on the door: We would prefer you paid by card, but we can accept cash
Venue: Fiery Bird, 32 Goldsworth Road, Woking, GU21 6JT
Music: The Mayhem DJs will play a mix of current chart hits and the best classics
Refreshments: There is a bar serving soft and alcoholic drinks (bring card or cash).
Getting home: Please make sure you plan how you will get home
*Please note that we cannot refund tickets purchased online.