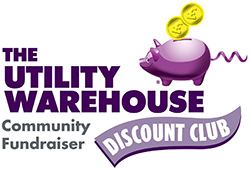 LinkAble is part of The Utility Warehouse Community Fundraiser scheme that allows supporters to raise money for us with very little effort. Better still you'll save money too!
Utility Warehouse are a Which? recommended utility provider, supplying over 600,000 customers in the UK with essential utilities like phone, internet, mobiles, electricity and gas.
The Utility Warehouse have a Price Promise that guarantees you'll save money compared to your current suppliers when you switch all your services to them, or they will give you back 'Double the Difference' (see the Utility Warehouse website for full terms and conditions).
How it works:

Join the Utility Warehouse as a customer, they will pay a one-off cash donation of £5 to LinkAble, and then continue to donate up to 5% of your monthly utility statement, every month, for as long as you continue to use their services.

Joining the Utility Warehouse is easy.
1. Call them on freephone 0333 7773 212 ; they will answer any questions you have and talk you through the process.
2. You can also visit our page on the Utility Warehouse website.

3. IMPORTANT INFO: Should you choose to go ahead, please give them our appeal number either over the phone or on the website - L75627 - to make sure your donation comes to LinkAble.